No makeup or nail polish for me this summer...*
I'VE BEEN ACCEPTED AS A LIVING HISTORY INTERN AT HARPERS FERRY NATIONAL HISTORIC PARK!!!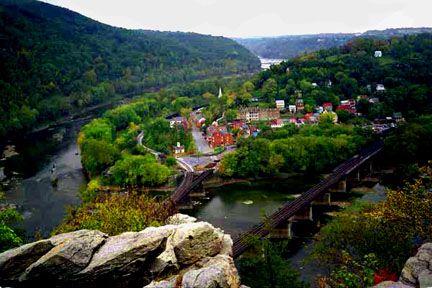 THIS PLACE!!!
AAAAAAAAAAAAAAAAAHHHHHHHHHHH!!!!
AAAAAAAAAAAAAAAAAAAAAAAAAHHHHHHHHHHHHHHHHH!!!!!!!
AAAAAAAAAAAAAAAAAAAAAAAAAAAAAAAAAAAAAAAAAAAAAAAAAAAAAAAAAAAAAAAAAAAAAAAAAAAHHHHHHHHHHHKLASDFJHASKDJFHASLDFKJDASHFJSDALHFJKSADLHFJAKSLHFJSDKALFHJKDLFHJSAKDLFHJASKDLHF!!!!!!!
In case you can't tell, I'm a little excited. I applied last year, but no cigar. I decided to give it another shot this year (hey, why not... all it costs is a few sheets of paper and some postage), and shipped my resume, cover letter, and references in. Exactly one day short of one week later, I got a phone call--I was in!
I HAVE LITERALLY NEVER BEEN MORE SURPRISED IN MY LIFE
I GET TO LIVE IN DOWNTOWN HARPERS FERRY
IN A 19TH CENTURY BUILDING IN THE HISTORIC DISTRICT
WEARING PERIOD CLOTHES ALL SUMMER LONG
PERFORMING PERIOD TASKS ALL SUMMER LONG
WHERE JOHN BROWN'S RAID WAS
AND WHERE JACKSON AND HILL AND STUART HUNG AROUND
AND WHERE LEWIS AND CLARK WENT THROUGH
AND WHERE WASHINGTON DECIDED TO PUT AN ARSENAL
AND WHERE THOMAS JEFFERSON'S FAVORITE SCENERY WAS
AND A TON OF OTHER HISTORICALLY SIGNIFICANT THINGS
WHERE THE POTOMAC AND SHENANDOAH RIVERS MEET
IN THE BEAUTIFUL BLUE RIDGE MOUNTAINS
A HALF HOUR AWAY FROM ANTIETAM AND FREDERICK
AN HOUR AWAY FROM GETTYSBURG AND DC
ABSORBING EVERY PARTICLE OF KNOWLEDGE AVAILABLE
LITERALLY EATING, SLEEPING, AND BREATHING HISTORY
TALKING ABOUT HISTORY ALL DAY LONG
SURROUNDED BY OTHER HISTORY-OBSESSED PEOPLE
FOR TWELVE GLORIOUS WEEKS
This town completely stole my heart last summer. Now I get to live there!
Literal dream come true. I feel so far beyond blessed by this opportunity! I may never come back. (My friends are literally concerned that they will never see me again...) Well, over the summer this blog will look a bit different than the regular sporadic sewing journal: here comes the chronicle of my internship adventures!
*Five days a week, during the workday anyhow.
**pictures borrowed from elsewhere on the internet... I had them saved, so I don't know where they were originally from.