I made a black sheer at the end of last summer, but haven't gotten to wear it yet. All I have to do before it's finished is to tweak the fitting on the bodice, add a few final hook and eyes to the under-bodice, and self-trim it a bit. I'm super excited to debut it this season (hopefully one of my events will stay under 80
°
since it
is
black... doubtful, but I can hope!) I'll hopefully take some photos of it once I'm home from school at the end of next week.
Here's the dress that inspired it: (photo was swiped from Historical Sewing's
post
)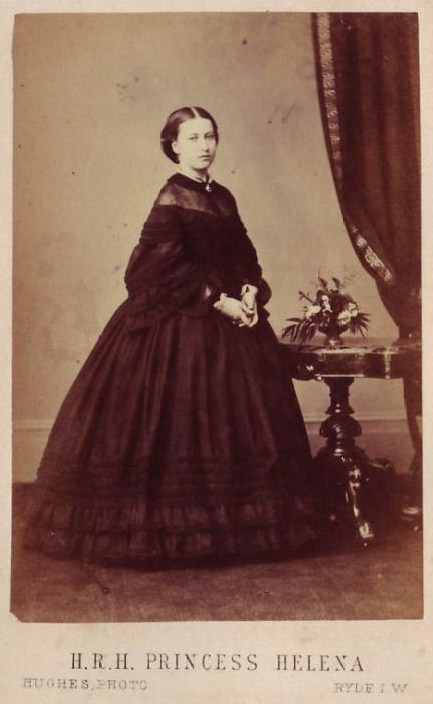 Gorgeous, right?!
I used black dotted swiss, because I had been actively looking for an opportunity make something of that fine fabric :) Mine has bishop sleeves instead of the pagodas that Princess Helena is sporting, and I didn't add the tucks at the bottom of the skirt. I'm thinking of trimming it with black ribbon where the tucks would be, though, to achieve a similar look without the extra yardage. Aaah I just adore this dress!
After finals are done, I'll be working on this, and my aforementioned plaid taffeta skirt/Garibaldi blouse/burgundy Swiss waist outfit.
And now... back to the insanity of show week followed by finals! I just bought an arm and a leg and several fingers' worth of frames, mat board and glass... I'll have to get to working when I get back home so I can continue to finance my sewing addiction!